Welcome to Gemini Marine Canvas
2023 Award of Excellence
We did it again.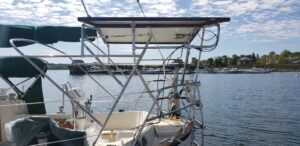 Our client wanted a full enclosure and matching sail cover with rigid solar panels that didn't interfere with the boom (and vice versa – solar panels don't like shade). It took a bit of doing, but John created a frame that gets the panels up and over the boom. It uses our own split side mounts to secure the panels, as well as a host of other hardware and fittings. The canvas looks great, the panels work great, the client is pleased as punch. Problem solved.
The build just won an Award of Excellence from the Advanced Textiles Association Marine Fabricator division. It will be featured in an upcoming edition of Marine Fabricator magazine. We couldn't be happier.
Not all solar builds are this complex, but if we can do this, we can get solar on your boat, too. Give us a call.
Not your average canvas shop
At Gemini Marine Canvas we couple award-winning design with high-quality materials to offer the best custom canvas and upholstery for your boat, home and business. Our crew has decades of combined experience creating beautiful custom canvas and upholstery for hundreds of boats, many of which belong to repeat customers.
We'll help you choose from hundreds of fabrics, foams, fasteners and fixtures, with as much or as little guidance as you'd like from our skilled and friendly staff. We only use the best for a polished finish that will last for years, including:
Sunbrella and Serge Ferrari Stamoid fabrics and vinyls
Strataglass and O'Sea windows
UV-stable Tenara thread
Our own patented 316 marine-grade stainless steel hardware
So sail or power, indoors or out, big new builds and small repairs, our quality speaks for itself – and we're here all year round.
"This is just a quick note giving you feedback on the new canvas enclose on Annisquam III. It works great!! It allows us room to move around when totally enclosed, just what we were looking for. We just love it and thank you."

Another happy Gemini Marine Canvas customer, August 2020
Departments